Work Packages
CAREPATH work plan is divided into various of work packages which are responsible for different activities in the project.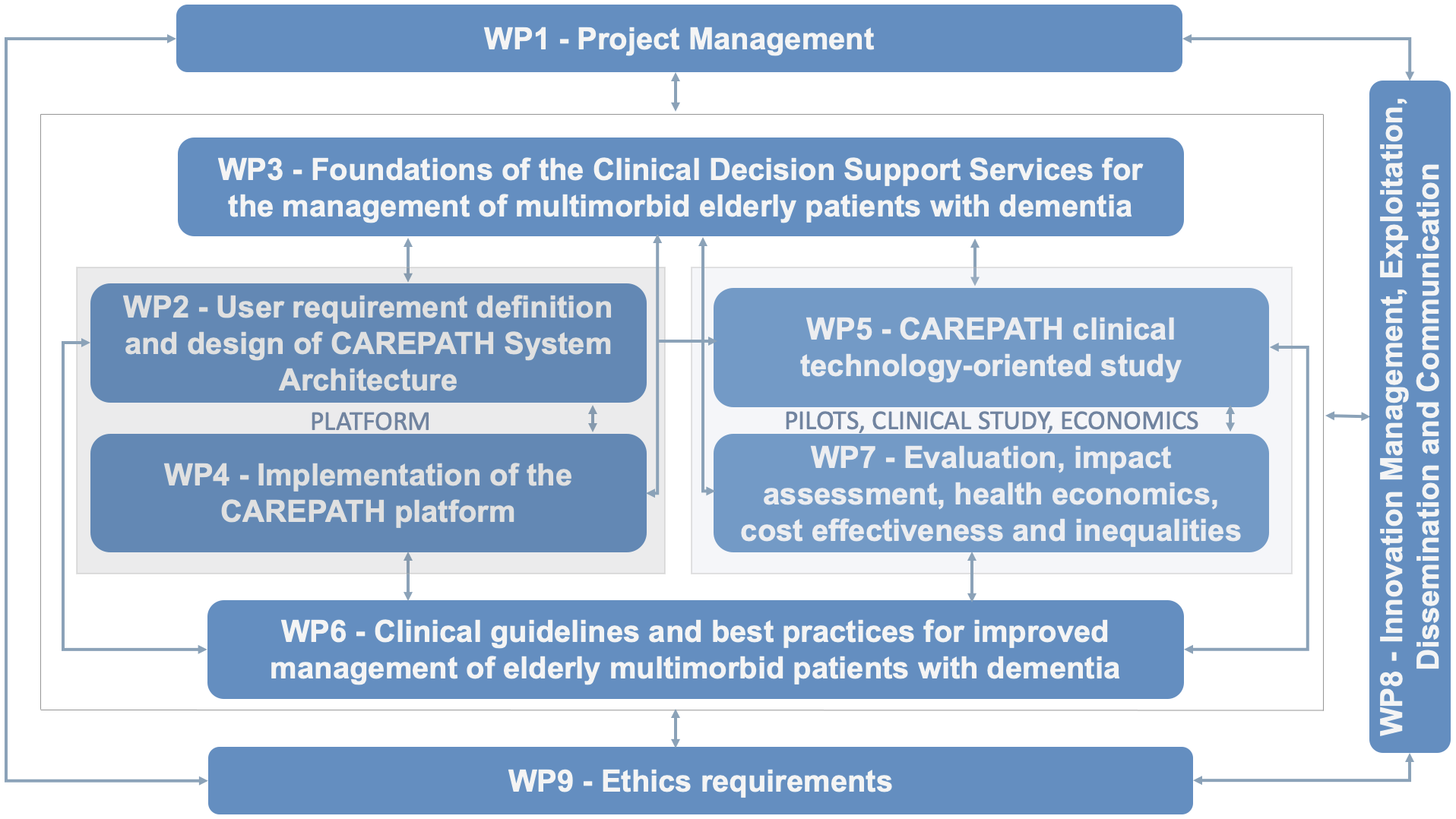 WP1: Project Management
Ensure effective project management and leadership, and co-ordination across work packages and partners. Enable project objectives to be met through development and management of communication and collaboration channels, financial and reporting mechanisms, and quality assurance systems for activities and outputs, liaison with the European Commission; management and coordination of the administrative and financial work; leading on legal and compliance elements; and continuous screening of ethical aspects within the project with the support of the Ethics Committee
WP2: Design of CAREPATH System Architecture
Define the needs of multimorbid patients with MCI or mild dementia for managing successfully their health condition with CAREPATH support and gather the requirements of informal caregivers of this patient group, Capture requirements of multidisciplinary care professionals, to provide patient-centred care considering interdisciplinary care models and cross-sectoral sharing of patient data, Define key scenarios of using CAREPATH applications and use cases following thereof, and Specify the CAREPATH platform with all of its modules and components
WP3: Foundations of the Clinical Decision Support Services for the management of multimorbid elderly patients with dementia
The main objective of this WP is to establish the foundations of the clinical decision support tools to be employed in CAREPATH Project based on the consolidated guidelines recommended by WP6. Design and development of smart early warning decision support tools, incorporating advanced technologies such as artificial intelligence and machine learning, to provide dynamic early warning about the development of the condition as well as the suitability of the treatment and providing clinical decision support services for polypharmacy management.
WP4: Implementation of the CAREPATH platform
The main objective of this WP is to deliver the integrated CAREPATH platform incorporating the main modules of the system (home/health monitoring platform, interoperability framework, patient empowerment platform, security and privacy suite and adaptive integrated platform), ensure its technical validation and verification, provide training materials and make it ready for pilot as deployable packages.
WP5: CAREPATH clinical investigation
To design and conduct a Clinical Investigation with the main objective of CAREPATH system validation in real life patients with Mild Cognitive Impairment or Mild Dementia and multimorbidity as well as coordination and monitoring of the four participating sites (UK, Romania, Germany and Spain) in order to minimize protocol deviations. Additionally, ensure that the Clinical Investigation complies with the regulatory issues of each country and that it is conducted under the Good Clinical Practices statements.
WP6: Clinical guidelines and best practices for improved management of elderly multimorbid patients with dementia
Identify current practice of treatments patients with multi-morbidities that include dementia, at the various health and care levels including local practice at the pilot sites. Propose a holistic CAREPATH best practice guideline, based on individual guidelines, integrated with guidelines of co-morbidities, considering additional personalization aspects, particularly, dementia profile and intrinsic capacity. Analyse the organisational structure of pilot sites to provide care and identify areas of improvements.
WP7: Health economics, cost effectiveness and inequalities
The main purpose of the health economic assessment will be (i) to estimate the incremental costs (from a societal perspective) of the intervention vs. control, (ii) to reveal the incremental cost per unit of benefit of switching from usual care to the intervention group, and (iii) to determinate whether the intervention is a cost-effective option, making health improvements and save in terms of costs. Then, the final expected outcome of this work package will be to estimate the economic effect of the implementation of this intervention in this target population.
WP8: Impact Promotion, Dissemination, Exploitation and Business Planning
Identification of exploitable CAREPATH results and innovations and their value propositions for stakeholders and finalizing an IPR-Agreement among the consortium members on the CAREPATH results, Exploiting the results of CAREPATH individually or collaboratively by consortium members and organizations that they have a strong relationship with. Providing optimum business models for the exploitation of CAREPATH beyond the project by performing a market analysis on competitors, alternative business models, market trends, etc. Preparing the Technical File for CE Medical Device Certification Process. Beside that, revisit the dissemination plan regularly, to identify opportunities, and evaluate the performance of dissemination activities, review and take corrective actions as needed.
WP9: Ethics requirements
The objective of this work package is to ensure compliance with the 'ethics requirements' set out in this work package.